Meta, Mesh and the metaverse: What does it mean for the future of immersive learning?

Philipp Seiler

A lot has happened in the immersive technology space in the last few weeks. We've pulled together a short summary of some of the main events and provided some insights into what this could mean for organisations planning to use immersive technology in the future.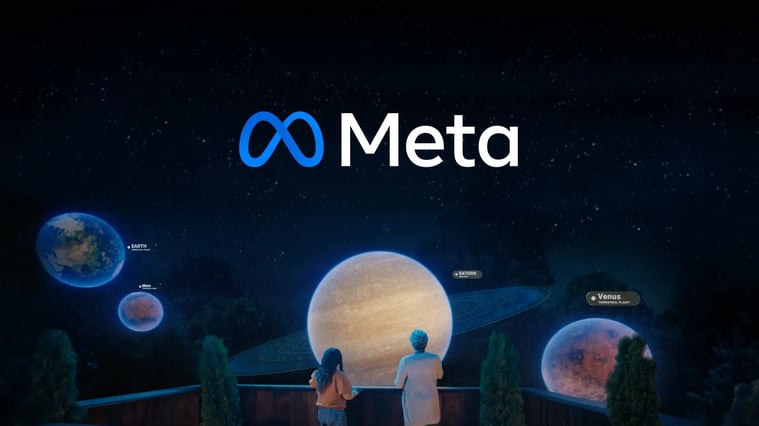 Source: Meta
Facebook - 'Meta'
At its main annual event, Facebook announced that it will rebrand as 'Meta' and that the main focus for the company will be on building the 'metaverse'. The 'metaverse' is a term being used to describe the concept of an almost unlimited set of persistently available, online 3D environments which can be accessed by VR and AR headsets as well as smartphones, PCs, and game consoles. Proponents of this concept suggest that this will be the dominant way people consume digital content in the future (web, email, elearning, virtual meetings, collaboration, games etc) and even replace many in person activities.
There is no doubt some hyperbole in these suggestions, but what is clear is that by committing US $10B to this concept in 2021 alone, Facebook are investing heavily into this vision. More specifically, Facebook made it clear that they want to dominate the 'content' creation aspect of the 'metaverse', likely by supporting and incentivizing creators to develop the required digital assets to make this concept a sustainable reality.

Source: Microsoft
Microsoft - 'Mesh'
Only days after Facebook's announcement, Microsoft announced their version of the 'metaverse' called Mesh. Mesh is stated as a collaborative platform for virtual experiences which seems, at least initially, aimed at meetings and collaborative work. Mesh will be based inside of the existing MS Teams ecosystem and most likely the rest of the MS productivity tools will be gradually added. A lot of the motivation behind it's design seems to stem from video-conference fatigue that many of us have experienced of late.
Microsoft have clearly taken a different approach to the future of immersive tech and have indicated that the company is focusing on recreating the human experience with realistic avatars, AI tonal assessment, gestures and even try to recreate eye contact to give a strong sense of presence.
Accenture & Bank of America
The multinational consulting firm Accenture has stated it's ordered 60'000 Oculus Quest 2 headsets for training and onboarding, amongst other use cases. This move clearly shows confidence in the ability of immersive technology to deliver a return in the context of workplace training. One of the main uses cases stated is improving the onboarding journey of new hires. Here VR experiences will be designed to create an initial and ongoing sense of connection to the organisation, its people and its culture in a world where working from home is likely a new normal.
Accenture's investment in VR technology comes not too long after the Bank of America successfully finished a 400 participant trial with VR training and as a result has decided to train an estimated 50'000 employees using the technology.
So what does this mean for immersive learning?
Below are a few possible implications of these trends for organisations interested in immersive learning.
1. Immersive learning is here to stay
These announcements clearly suggest that immersive technology is here to stay and will soon be a central modality for learning.
2. Immersive learning is on the rise
Given the level of investment in this space, we are likely to see rapid improvements around the usability, cost, and the applicability of the technology for all kinds of learning.
3. Standardisation in immersive technology
Technological standards around immersive learning content will emerge quickly, however, standardisation and best practice around immersive pedagogy will take longer to develop.
4. Hardware best practice
Standards and best practice around hardware and usage will likely emerge in parallel with technology advancements, although quality peer reviewed research on this subject will always lag behind.
5. More readily available immersive learning content
Immersive learning content will generally become more readily available as a result of this standardisation (and incentives), although it's not clear how much of this will be applicable to any given organisation.
As a result of this there will still be a need for organisation specific learning content; as is still the case for the very mature e-learning content market.
As such, immersive learning creation platforms will be central to most organisations being able to capitalise on the advancement of immersive tech as a whole.
6. More options for disseminating content
Assuming an organisations content meets the technical requirements, there are likely to be greater options for how this content can be disseminated to learners or end users, (e.g. via a 'mesh' or 'metaverse' platform).
There is also a possibility that certain types of existing content may not be 'compatible' (in a technical sense) with the new platforms that are emerging.
7. Big moves from big players
These initial moves by Facebook and Microsoft will likely see other big tech players make an entrance or double down on the future of immersive tech very soon. Each of these offerings will no doubt encompass large aspects of remote collaboration and learning as well (as these are core use cases for the tech), but likely from different angles. A diversity of offerings will be good for the immersive tech ecosystem as a whole, as Facebook's offerings are unlikely to appeal to all organisations.
8. Microsoft 'Mesh' will likely rise on top
Microsoft's Mesh is likely to be a more palatable approach for most organisations given the fact that it will be seamlessly integrated into MS Teams, it has a strong focus on the human experience, and it's designed with workplace learning and collaboration in mind. These factors will likely make the transition from traditional digital tools to immersive tech an easier one.
Of course these are only possible implications and certainly not exhaustive.
What do you think these trends mean for your organisation?
Are there any implications you can see for your organisation or industry in particular?