360Cities and Facilitate Join Forces to Empower VR Content Creators

Ben Bauert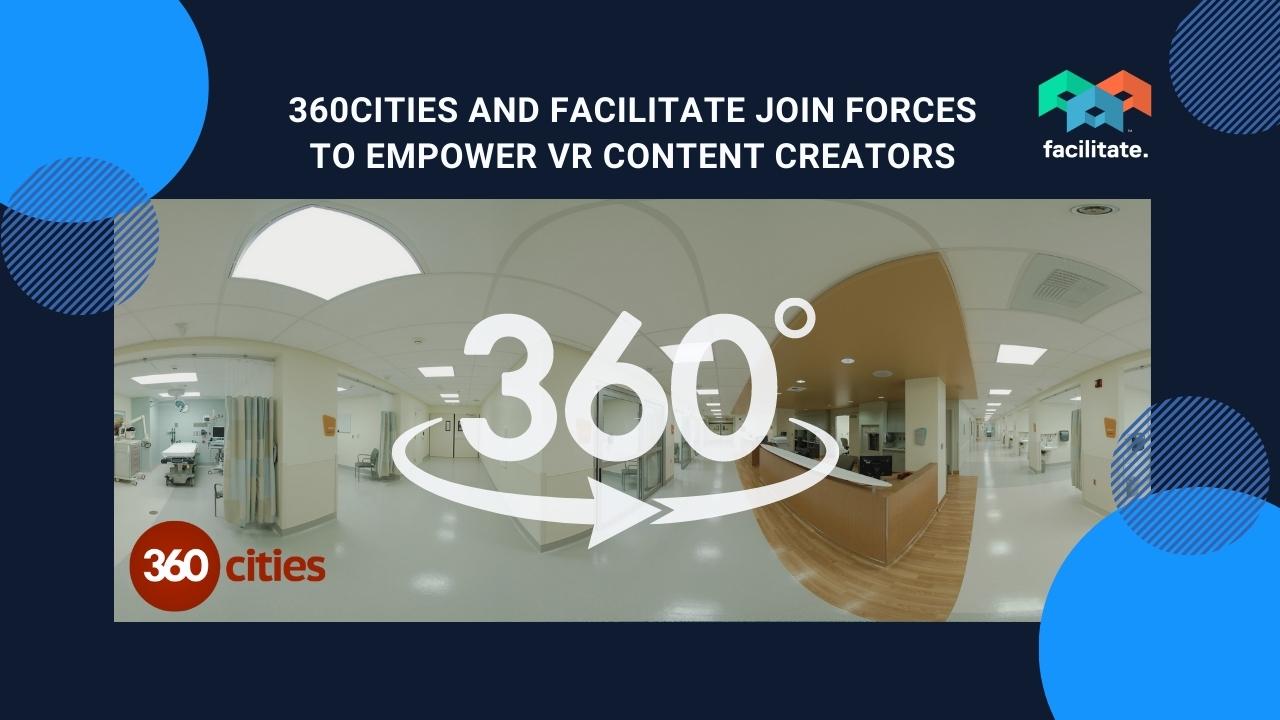 Revolutionising VR Content Creation: 360Cities and Facilitate Offer Seamless Access to 360 Images and Videos
Facilitate Virtual Reality Training Platform is pleased to announce its partnership with 360Cities - the World's largest collection of stock 360 images and videos
Facilitate, a renowned self-authoring platform for virtual reality training, is delighted to announce its partnership with 360Cities, the world's largest collection of Stock 360 Images and Videos
This partnership between 360Cities and Facilitate VR closes the gap for immersive content creators, making the process of sourcing and utilising 360 assets seamless and affordable.
Through this partnership, Facilitate will be able to offer customers using its Virtual Reality training creation tools the ability to enrich their content with stock images from 360Cities unrivalled library. This will make it easier and more cost-effective than ever to create highly immersive and impactful learning experiences that enhance training content and learning programs.
360Cities brings a wealth of experience and expertise to the partnership, curating and licensing high quality, fully 360° interactive panoramic photos and videos since 2008.
360Cities recognized the opportunity to bring this wealth of 360 content to life within VR training experiences. By partnering with Facilitate, organisations all over the world can bring together images and videos from multiple photographers and videographers and deliver unique and impactful learning outcomes.
Facilitate's Head of Partnerships, Simon Yeowart said,
"We're thrilled to give Facilitate customers the ability to utilize 360Cities collection and make it possible to develop amazing learning within a couple of clicks. The partnership gives users unparalleled opportunities to ensure their VR content is rich with the world's best 360 assets".
Bruce Pales, CEO at 360Cities said,
"We're honored to partner with Facilitate and excited about enabling our 360° panoramas and videos to users of their Virtual Reality Training Platform".
About 360Cities
360Cities is the source of 360° imagery for EdTech service providers, educational publishers, digital advertising agencies, and VR/AR/MR experience developers.
They have been curating and licensing high-quality, fully 360° interactive panoramic photos and videos since 2008 and have rewarded thousands of passionate VR photographers and videographers from around the world with royalties on their work.
About Facilitate
Facilitate is a Virtual Reality Training Platform that helps mid to large-size organisations enhance their training content and programs by leveraging the power of VR and immersive learning.
Facilitate allows its users to combine a wide variety of immersive content types to create powerful and engaging experiences that meet their specific training needs.
Facilitate serves a wide range of industry sectors such as heavy industry, higher education, vocational colleges, and healthcare.
Click here to learn more about Facilitate's partnership programs.